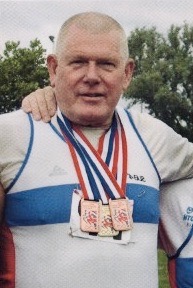 Gary Negus 1942-2020
It is with much sadness to report that Gary Negus died on Monday 22nd June this year having suffered from the effects of Asbestosis for some time.
Born in Yorkshire in 1942 he served proudly with the Royal Marine Commandos in the 1960s in Borneo.
He was a longstanding member of both SCVAC and Portsmouth Athletic Club for whom he competed in the Vets League for many years.
He excelled in the throwing events and in 2016 he won gold in the shot-put, gold in the weight throw and gold in the hammer at the BMAF Championships in Birmingham.
Then, in 2017 he won a bronze award in the Winter Throws Championships in Lee Valley. In the all-time rankings for V70 he was 5th in the shot-put, 8th in the weight throw and 15th in the hammer. He took part in numerous competitions all over the country and won medals galore.
More than that Gary was a supportive team member, a gentle giant and a true gentleman with a great sense of humour.
He will be greatly missed by all who knew him. Our thoughts go out to his wife Chris and their family. 2-07-20